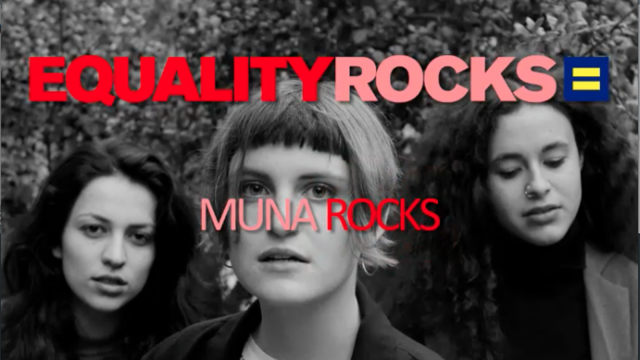 American pop-funk band MUNA has joined HRC's Equality Rocks campaign.
MUNA is made up of three queer women who are urging their listeners to be comfortable in their own skin. Since the group formed in 2013, they have been showing time and time again that an accepting, safe space can and does exist for the LGBTQ community.
MUNA has the ability to create radio-friendly music without ever shying away from important messages they want to depict. "I believe that there are people that listen to us and connect with our messages that will then go and create something even more important than what we've created," said producer and synth-master Naomi McPherson to Advocate Magazine.
Their newest single "I Know A Place" was originally written in 2015 for Pride Week, the band "chose to imagine a place where none of us would need to be afraid," lead singer Katie Gavin said in an interview with Time. "It was also meant to serve as encouragement for our community to remain vulnerable and kind and hopeful in the face of violence." MUNA is actively trying to break barriers and HRC is happy to have their support!
The Equality Rocks campaign is sparking a conversation about love, fairness and equality around the globe. To join, visit www.hrc.org/EqualityRocks.
To tune into the artists who rock for equality, including the Yeah Yeah Yeahs, Florence and the Machine, Phoenix, Sara Bareilles, Tegan and Sara, Sleater-Kinney, and Animal Collective, follow HRC on Spotify now.